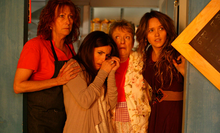 The fire that damaged the Diner occurs in 5001 and 5002, where Leah Patterson-Baker, Colleen Smart, Irene Roberts, Geoff Campbell, Ruby Buckton and Alf Stewart are trapped as a fire erupts during Australia Day.
Beginning
When John Palmer insults the refugee victims caused by Hugo Austin before his "death", Ruby and Geoff decide to do a protest against it. Some Surf Club employees soon accuse Leah's boyfriend (Hazem Kassir) of being a terrorist and later at night, they confront them and beat him up. As Alf, Geoff and Ruby help him and Leah inside, Irene and Colleen who were closing the Diner decide to tend to him while Leah stands still in shock. Soon, the protestors start breaking the window shades and throw in Molotov cocktails, setting the Diner on fire. Ruby informs the group that police, ambulance and firefighters are away on another disaster, so they try to beat out the fires but the protestors keep throwing more Molotov cocktails in and the fire extinguishers runs empty. As they have managed to beat out the fires, the electricity sparks around the place, preventing them from escaping. After Alf accidentally provokes the protestors, they throw more Molotov cocktails in, hitting one of the ceiling supports, causing it to fall down and hit Geoff's right shoulder. As they beat the fire off Geoff, an ambulance truck manages to arrive but the protestors block, jump on and shake the truck. After John tells them to get lost, they manage to get through to get Geoff and Hazem to the Northern Districts Hospital. The fire had severely damaged the Diner. Hazem was transferred to the city hospital and Geoff received permanent burn scars to the back of his right shoulder.
Aftermath
Alf doesn't consider himself a hero, Aden Jeffries lost his job and Martha MacKenzie blames John for the Diner disaster.