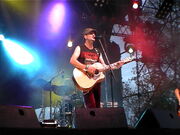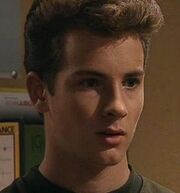 Andrew James Charlton Hill is an Australian actor and singer-songwriter. He is better known as Charlton Hill, but is also sometimes credited as Andrew Hill. Andrew was born on April 4, 1975, in in Sydney, New South Wales, and has two sisters.
Andrew Hill startet acting in commercials and in 1988 portrayed Wes Craven in seven episodes of the soap opera A Country Practice. In 1990, he joined Home and away to play the role of Haydn Ross.
He later told in an interview that he was cast for this role by a mistake. He came to the studios in order to audition believing he was auditioning for a washing powder commercial and was astonished to be was given the scripts for Haydn. However, he went on and impressed the casting department because he "remembered everything" so that he got the role.[1]
In 1991, Andrew Hill left the show. He joined a pop band and in 1999 toured through the United States and Europe, playing in clubs and bars. Back in Australia, he was discovered by Sony Music and went to the United Kingdom to record his debut album Waterline which appeared in in 2003. The second album Small Triumphs in Traffic followed 2007.
Since 2013, Andrew Hill is again present in Home and away, portraying the character David Morrell, now being credited as Charlton Hill.
External links
References
↑

May, Nigel (25 April 1992). "The Hills are alive!...". Look-in (IPC Media) (17): 8, 9.