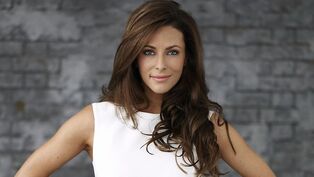 Esther Anderson

Born

13 June 1979 (age 38)
Geelong, Victoria, Australia

Occupation

Actress
Model

Years of active

2007-present

Spouse(s)

Howard Moggs (2017-present)

Role(s)
Esther Jackie Anderson
is an Australian actress and model. She played
Charlie Buckton
on
Home and Away
in 2008-2012. She reprised her role as
Charlie Buckton on
the show as a guest role in 2013.
Career
Anderson was a successful model. She was based in Japan for six years and has travelled to Tokyo, Osaka, Hong Kong, Korea and Europe for work. She is signed to Chadwick Models. She has modelled for Patons, a knitting company. Also for Bride, Everybody and Zenzue.[citation needed]
Anderson began her television career in Japan appearing in ads, during which she decided to move back to Melbourne to take acting courses as she wanted to begin acting and presenting. In 2007, Anderson landed a role on the Victorian version of Australian travel show Postcards. She remained in the role for a year until she had the chance to audition for Home and Away. Anderson won the role of Charlie Buckton in 2008.[3] She decided to quit the role in 2011 after three years and she filmed her final scenes in August that year.[4]
Anderson later starred in a short film titled Breathless playing the role of Jodie, a woman in mourning over her deceased child.[5] In August 2012, it was announced Anderson had landed a role in the pilot of Siberia, which was filmed in Canada.[6]On 25 November 2012, Debbie Schipp from the Herald Sun reported that Anderson would return to Home and Away in December to shoot "a handful of episodes" to be broadcast during the following year.[7] In 2015, Anderson is a contestant in the fourth season of The Celebrity Apprentice Australia.
Personal Life
Anderson was in a relationship with fellow Home and Away actor Conrad Coleby, who played Roman Harris from 2008 till 2010,[9] and with footballer Joel Selwood in 2012.[10] She began dating Englishman Howard Moggs in December 2014. The got engaged in February 2016,[11] and married in Geelong in February 2017.
Filmography
(2007) The Three Dumas - General Toussaint Louverture
(2007-2008) Postcards - Presenter
(2008-2012, 2013) - Home and Away - Charlie Buckton
(2010) - Dancing with the Stars - Contestant
(2010) Breathless - Jodie Layersmith
(2012) The Next Big Thing - Janet
(2013) Siberia - Esther
(2014) Half Sisters - Baby Shower Guest
(2015) Wait - Sam
(2015) Broken Contract - Detective Keeling
(2015) The Celebrity Apprentice Australia - Contestant
(2017) GLOW - Carolyn
(TBA) Airplane Mode - Opening Credits Voice Over
(2018) Madness in the Method - Police Chief Anderson
(2018) Apple Seed - Regan
Gallery