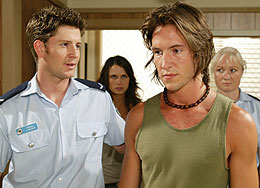 Michael "Jonah" Abraham
, played by James Mitchell,
[46]
 first appeared on 4 November 2005.
Mitchell joined the serial after graduating from NIDA in 2004. In spite of Early starts, he relished the opportunity and enjoyed the experience. "It was great, just to be working and to be part of it," he told Vince Ciccarello of the University of South Australia's publication, The Graduate. "Everyone involved is so dedicated to the craft. And they work so hard."[47]
Jonah is the son of Mumma Rose (Linden Wilkinson), the head of a cult called "The Believers". The Believers influence Tasha Andrews (Isabel Lucas) into joining them. Mumma Rose believes that Tasha is the chosen one who is destined to have Jonah's baby and arranges for Jonah to impregnate her. He goes along with his mother's plans and kidnaps Tasha's friend Martha MacKenzie(Jodi Gordon) to prevent her from informing Tasha. Tasha is drugged and it is believed Jonah has raped her. Jonah rebels against his mother's beliefs and tries to flee with Tasha but they are caught by the group. The police eventually rescue them and arrest Mumma Rose and Jonah and imprison them.
The following year, Jonah is paroled and returns to Summer Bay under his birth name, Michael. It is revealed that Mumma Rose had adopted him at age five and named him Jonah, after her son who died in a car accident. Mumma Rose had been drugging and brainwashing Jonah all his life. The discovery of his sterility clears him of being Tasha's rapist as well as being drugged that night. Martha and Irene Roberts (Lynne McGranger) refuse to listen to him and try to drive him out of town. After selling the land the Believers previously lived on, he begins working for Bruce Campbell (Chris Haywood) as a farmhand. Martha spray paints "Evil" on Michael's van and he chases after her, but they fall into a mineshaft, forcing them to be trapped for the night. After the rescue, Martha denies her feelings and dates Lewis Rigg (Luke Carroll) but later kisses Michael and they sleep together.
Michael and Martha's relationship is not accepted at first but Michael proves himself to her. There are testing times for the relationship when Martha wrestles with her feelings for her ex-husband Jack Holden (Paul O'Brien), who is now engaged to Sam Tolhurst (Jessica Chapnik). Michael's jealousy gets the best of him and he violently punches Jack one day. In spite of this, Martha agrees to leave town with Michael but he ends up leaving alone after he realises he will only be second best to Jack.