Leah Helena Adara Patterson (also Baker, MacGuire & Poulos)
is the daughter
Theo
and
Helen Poulos
. She's the sister of
Alex
,
Dimitri
and Chris Poulos and the niece of
Con Poulos
. She's the wife of
Vinnie Patterson
and
Dan Baker
.
She's also the ex-wife of Zac MacGuire and the mother of VJ Patterson. She's the stepmother to Dan's son, Ryan Baker and the best friend of Irene Roberts.
She's also the surrogate mother to Flynn Saunders and Sally Fletcher's daughter, Pippa Saunders. She's the ex-fiancee of Ted Simos and Eiljah Johnson.
She's the ex-girlfriend of Jesse McGregor, Peter Baker, Hazem Kassir, Miles Copeland and Jamie Sharpe. She's also the girlfriend of Justin Morgan.
Storylines
Leah runs off from her wedding to Ted, she arrives in Summer Bay in her wedding dress where she meets Vinnie. They start a relationship, marry, and have a son called VJ, they later find out VJ is deaf. Vinnie's father Ralph scams him, he is convicted and sent to prison. Whilst in prison Vinnie dies leaving Leah to cope alone. Leah later finds out Vinnie is alive and on witness protection. Leah's brother Alex also comes to live with her. Leah then begins a relationship with Jesse McGregor, they remain together in a good relationship. Leah then acts as a surrogate mother for Sally, giving birth to Pippa Saunders, but when she hands the child over to Sally, Jesse cannot deal with it and ends their relationship. She later dates Peter Baker, then his brother Dan. They later marry, when they plan to emigrate to America Dan heads out first to search for a perfect home for their family and to start his new job. Whilst abseiling Dan has a tragic accident and dies off-screen, leaving Leah devastated again. Leah has a begins a new relationship with Hazem Kassir but it is cut short when he is accused of being a terrorist and is severely beaten up by racist drunks who set the diner alight. Hazem is hospitalized and later transferred to another hospital in the city. Leah becomes depressed and scared to leave her house because of her fear. Her friends rally around her and help her through. She meets Elijah and begins a relationship with him and they become engaged. Elijah's mother, Lijuan interferes and Leah worries about his job in the church, they later split.
When Charlie Buckton is shot dead by Jake Pirovic, Darryl Braxton struggles to get over her and begins drinking. During this time Leah feels that she needs to help Brax and so she does. Leah overhears Geoffrey King talking to Brax saying he owes King money. Leah gets in contact with King and gives him the money that Brax owes him in exchange for leaving Brax alone. After this Brax finds out and tells Leah that he doesn't owe King any money and that he was just bluffing. So Brax feels bad that he owes Leah money so he says to her that he will pay her back when he gets the money. To pay her back, Brax begins to cage fight and Leah finds out and is unhappy but Brax continues to fight until he gives her all the money. During this, time Leah helps him when he gets beat up and while helping him she starts to fall for him. Roo Stewart sees this and talks to Leah about it and Leah admits to Roo that she has feelings for Brax. Leah know that she should move on so she eventually joins an online dating site and goes out with a guy but finds him boring. She and her son VJ left Summer Bay after Adam Sharpe's son Jamie threatened VJ and didn't say goodbye to anyone. Months later, she and VJ return to Summer Bay, only to be greeted with a broken window in her home and heard a sound and grabbed a frying pan and saw it was Kyle Braxton, Zac and Natalie's housemate and apologized for scaring him, but he revealed that he was just going to see someone. Kyle later moved out and Casey's girlfriend Tamara Kingsley moved in, hoping to get her memories back.
Update needed! Sign In to edit!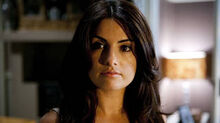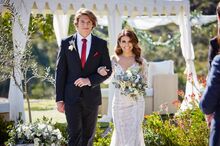 Relationships
Elijah Johnson
Leah falls in love with Elijah Johnson, a reverend who also shows a love interest in Leah. The two begin their relationship but comes to an end when Leah realizes her past fate with her other husbands who died, she did not want the same to happen to Elijah. Elijah is offered a position in the missionary in Africa so the two decide to try a long distance relationship which does not work out how they wanted it. Elijah leaves the bay.
However, Elijah later returns to Summer Bay following time in Africa. He arrives with a new wife Grace Johnson whom he has married to help her ill son, Thabo Manthenga receive treatment. Leah is "very upset" because she was looking forward to seeing him again and "exploring her feelings for him". Elijah being married comes "out of the blue" for Leah as she "definitely didn't think he would get married". Nicodemou insisted that Leah and Eljiah would not be reconciling their relationship. While Leah "fell very hard" and formed a life and future with Elijah, she would never take him back as a married man. Elijah "hurt her too many times" and VJ was also caught up in the heartbreak, so she would do "anything to protect her son from getting hurt" again.
Miles Copeland
Miles Copeland and Leah start a relationship together. Leah finds out that she is pregnant with Miles baby and is left stunned. Leah decides that she doesn't want the baby and tells Miles that she would like an abortion but Miles talks her out of it. Leah later suffers a miscarriage and blames Miles.
Gallery
Community content is available under
CC-BY-SA
unless otherwise noted.