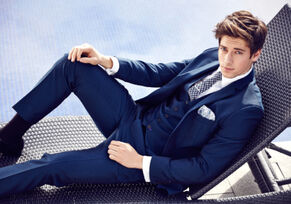 Lincoln Younes

Born

31 January 1992 (age 25)
Canberra, Australia

Occupation

Actor

Years of active

2009-present

Partner(s)

Amy Ruffle (2012-present)

Role(s)
Lincoln Younes
is an Australian actor. He played
Casey Braxton
on
Home and Away
in 2011 to 2014.
Early & Personal Life
Lincoln was born in Canberra, but grew up in Bendigo, Victoria.[1] He is half Lebanese. Lincoln attended Flora Hill Secondary College.[3] After playing soccer for 14 years, Lincoln initially chose to pursue a sporting career. However, he later realised he preferred acting when he starred in a school production of Peter Pan.
He was accepted onto a one-year weekend course at the National Institute of Dramatic Art (NIDA).[4] He started an Arts and Law degree at Melbourne University, but he decided to defer after six months.[4] Lincoln has been in a relationship with Mako: Island of Secrets actress Amy Ruffle since 2012.[1]
Career
In 2009, Lincoln made his debut in acting when he guest starred in an episode of the crime drama City Homicide as Tyler Drew.[5] After attending his first audition, Lincoln was cast as Romeo Kovac in the Showcase drama series Tangle.[6] Lincoln commented that the show was "the best training ground I could have had and I am really appreciative of the chance to do it."[6] In 2013, Lincoln won the ASTRA Award for Most Outstanding Performance by a Male Actor for his portrayal of Romeo.[7] Younes also appears in the feature film The Wedding Party, along with Josh Lawson and Isabel Lucas. The film was shown at the Melbourne International Film Festival.[6]
In 2011, Younes successfully auditioned for the role of Casey Braxton in the soap opera Home and Away.[3] He relocated to Sydney for filming.[3] Of his character, Younes said "Casey's come from the wrong side of the tracks. He's come to a new place and is trying establish himself on the straight and narrow, while his brothers are doing anything but that."[3] In 2014, Younes won the Inside Soap Award for Best Daytime Star for his portrayal of Casey.[8] Younes was nominated for Cleo's "Bachelor of the Year" in 2013.[9]
In June 2014, it was confirmed that Younes had left Home and Away after three and a half years and he had filmed his final scenes in May. It was also announced that he had joined the cast of the Nine Network's drama Love Child as Chris Vesty.[10][11] Younes will also appear in the upcoming ABC miniseries Hiding, which centres on a family forced to enter into a witness protection program.[12] Mitchell is described as, "Handsome, dry, laid back surfer-boy. Mitch is the funny one: the one who calls it as he sees it. His needs are simple: the sea, some tunes, a few good mates, and girlfriend Kelly. That's pretty much the entire catalogue of Mitchell Quigg's wants, needs and desires - until his world is rearranged. After it's all ripped away from him, Mitchell is left in shock. Pulverized, at seventeen, nothing will ever be the same."[13] Younes appears in the 2016 black-comedy film Down Under.[14] He has since appeared as a Jewish male model, Lucacz, in the play "The Homosexuals, Or 'Faggots'" written by Declan Greene.
Filmography
Film
(2009) Locker - Tim Kelly
(2010) The Wedding Party - Todd
(2016) Down Under - Hassim
(2016) Petunia - Jack
Television
(2009) City Homicide - Tyler Drew
(2009-2012) Tangle - Romeo Kovac
(2011-2014) Home and Away - Casey Braxton
(2015-2016) Love Child - Chris Vesty
(2015) Hiding - Mitchell Quig/Mitchell Swift
(2018) Dead Lucky - TBA
Gallery
Trivia