Vote for your favourite 2017 Home and Away Character
Voting has now closed.
You can see who took out the fan favourite title for 2017 on the home page.
See here!
Mason Morgan, also known as Michael Lee, is the brother of Justin, Brody and Tori Morgan. He's also the older half-brother of Raffy Morrison. He's the ex-boyfriend of Lara Adams, Olivia Fraser Richards, Dempsey Blackwood, whom he had a child with and the boyfriend of Beth Ellis.
Backstory
Mason was born as Michael Lee to Koby and Kate Lee. Seven years before he and his older siblings, Jack (Justin), Tessa (Tori) and Bart (Brody) moved to Summer Bay, Koby and Kate were murdered by Ranae Turner, Blaine Varden and Kevin "Spike" Lowe, who are still threatening him and his family. The Lees goes under witness protection by the police and were given new identities for protection and goes under as the Morgans, and Michael becomes Mason Morgan. Before being in witness protection, he was in a relationship with Lara Adams, but he had to break up with her when he has to move to Summer Bay.
Storylines
Mason arrived in town with brothers Justin and Brody and tried to stop Justin having a go at Ash when he accidentally forced them off the road. Reunited with sister Tori, who had been in town some weeks, they moved into their latest in a long line of new homes. Mason was the most set-up of the brothers, since as a medical student he had already managed to transfer his course to Northern District Uni, and managed to smooth things over with Leah after Brody upset her by criticising her cooking. He was on the receiving end of Josh's temper after doodling on a photo of Andy after he was charged with murder but understood when Evelyn explained.He was surprised by a visit from his old girlfriend, Lara Adams, but ended up sleeping with her only to be caught by Justin. He told Justin that since Lara already knew where they were he wanted to keep seeing her. Justin pretended to agree then warned Lara off. When Lara rang him up and told him, Mason angrily confronted Justin at Angelo's, with Brody having to break them up. However, Justin maintained that he needed to end it.
He found himself drafted in to work at Angelo's when Brody bought it and laid bets with Matt on who would come out on top in a clash between Brody and Phoebe. However, he became almost frantically evasive when Matt started asking him personal questions. He started work as a medical student at the hospital and was given Nate as a supervisor. He immediately clashed with him when Nate overheard him describing the hospital to a classmate, Sarah Smedley, as out in the sticks, then was disciplined when he helped Alf back into bed after a fall without informing anyone or getting him checked over. However, they got on better once Mason had settled in. He ushered Lara out of the hospital when she turned up, then was seen by her comforting Evelyn after Josh was charged with killing Charlotte. When Lara threatened to break up with him, he told her the family were in witness protection; their parents had been murdered by a drug syndicate that their father had done the accounts for. Mason hid Lara from his family to spend the night with her and lied to Tori that Nate had seen him with another girl but had to admit the truth when someone followed Brody. Although their handler, Decker, assured the family that they hadn't been found, Mason was told to break up with Lara.
He helped Brody relaunch the restaurant as Salt, only for the family to have to leave town after they were discovered. However, he broke the rules by keeping his phone when they moved to a safehouse. When the family were told they were moving to Perth, he slipped away to say goodbye to Lara. However, he found her apparently being held prisoner by Blaine Varden and Spike Lowe and told them where his family were to save her from torture, only for it to turn out Lara was actually working with them. However, she balked at Blaine actually killing the family and freed Mason, allowing him to flee with the others until Blaine and Lara were arrested. He went along with Tori ordering Justin out of the house when it came out than he knew what their father was up to.
Mason agreed to help Evelyn out by acting as a chaperone at the fundraising sleepover she was organising, where he tried to kiss her. He tried to avoid her in the aftermath but eventually they cleared the air. He went to a uni party with her and Matt where Evelyn proceeded to write herself off. Mason stayed behind to look after her, putting her to bed on his couch and pulling away when she tried to drunkenly kiss him. He tried to keep an eye on her as her partying escalated, having her round for study and pizza, and ended up sleeping with her. She ended up in tears and told him she wasn't over Josh. Mason told her that he still hadn't got over Lara and convinced her to stay and watch a movie with him rather than go home upset. Next day, she helped him colour code some files and they ended up sleeping together again, prompting them to decide on a friends with benefits arrangement.
He found himself paired with Evelyn on a plane trip to celebrate Tori's birthday. The plane then crashed, leaving most of them trapped in the desert. Mason was the only person with medical knowledge left with the main group so was given the job of trying to look after pregnant Billie when it looked like her amniotic sac had been damaged. He burned his arm protecting Evelyn when the plane exploded but not long after they were all rescued. He was worried when Evelyn kept insisting she had seen Oscar during the crash. Marilyn convinced him to try and see Evelyn's point of view but when he got in the car with her she started driving dangerously, convinced Oscar would protect her. Mason put the handbrake on, narrowly avoiding a collision with a tree, but Evelyn was upset that he'd interfered. Mason went to Alf and Leah and told them what was going on. However, after getting a wake-up call Evelyn thanked Mason for saving her life.
He bought a new car which he took to the garage to be checked over. Matt nearly caught him and Evelyn having sex in it and he explained the arrangement. Mason later tried to defend Evelyn when Matt had a go at her but Evelyn accused him of acting like a boyfriend. Against Matt's advice, he admitted that he had feelings for her. She rejected the idea of a relationship so Mason told her he was happy to go back to the old arrangement and they hooked up in a caravan. However, she refused to have breakfast with him after spending the night together and after she tried to use him for sex to make herself feel better about Chris leaving he ended the arrangement, saying it was obvious she would never feel the same way as him.
He looked after John when he suffered an extradural haematoma and failed to reassure him when he began looking up worst case scenarios. Matt convinced him to help Evelyn move to the farmhouse to try and clear the air between them. However, when he came to the farmhouse and found Evelyn and Brody in a state of undress (having got mature on their clothes), he attacked his brother, prompting Evelyn to say they should stay away from each other. With Decker in a coma after being run off the road, Mason futilely attempted to research treatments for him. He got on well with Raffy when she moved in with them and was informed by Brody that she was their half-sister, the result of their mother having an affair with Decker. He decided that he and Evelyn should accompany Matt on his blind date with Stephanie Suttle but Mason got on better with her than Matt and ended up going back to her place with her. It was only after he got home that he realised he didn't know her name.
He was in favour of telling Raffy she was their sister but kept quiet when Hope stole his car in an abortive attempt to flee town with her. He gave Brody advice over his attempt to woo Jeannie Wood. When he heard that Tori was planning to go to the same conference as her ex-boyfriend Riley, using her old name, he broke patient confidentiality by alerting Careflight to the fact Nate hadn't declared a shoulder injury so he missed out on another job and could go instead. He invited himself along to VJ's bucks party where he tried to stop Ash and Matt doing anything too harsh to him, although he did help them out with making VJ think he'd broken both his arms. On learning that Hunter was going for his bronze medallion to get a junior lifeguard job, Mason mentioned that he already had his and could fill in if Hunter failed.
He helped Justin and Brody in their attempt to make Raffy feel like part of the family. When she found out they used to be called Lee, he tried to spin her a story about changing their name to avoid press attention after Kate's murder but eventually had to join the rest of the family in telling her the truth. He invited Olivia to go for a walk with him after witnessing her arguing with Hunter, with whom she'd just broken up. He took a salad round to her place but made a mess of asking her out. When he tried again, she told him she wasn't ready for a new relationship but soon after she asked him out to lunch. They got on well until Hunter came in and insulted Olivia, prompting Mason to square up to him. He then overheard Olivia telling Hunter she was trying to get over him but Olivia assured him she was having a good time, although she also said she wasn't ready for a relationship.
He was on duty when Decker was brought into the hospital after being shot and retrieved a USB stick he had had on him, which he found was full of police files. After Decker died, he was buoyed when Olivia called round to give him lunch and they nearly kissed. He hid out at the farmhouse with the rest of the family until syndicate leader Ranae Turner was arrested and, with the strong possibility that their witness protection could be ending soon, dreamed of finally being able to post online. When the trial ended with Ranae and the others found guilty, Mason tried to get Tori to talk to Nate about it.
After chatting with Olivia about witness protection, he found himself invited to escort her to her formal as friends, something which pleased him since he'd never had a formal of his own. However, she spent most of the evening paying more attention to Hunter and Mason angrily realised she still had feelings for him. While doing his first shift as a lifeguard, he overzealously ordered Hunter to stay out of the water because of under currents, then punched him after he claimed Mason couldn't accept that Olivia still loved him. The fight earned him telling offs from both Alf and Olivia and he and Olivia decided they weren't in the right head space for a relationship. When he learned Nate had broken up with Tori because she hadn't been able to explain the call to Careflight, he went to Nate and explained. While helping Brody run a stand at the Summer Grooves music festival, he was put out to see Olivia chatting to Hunter but when he approached Olivia they kissed and went off together.
On their return from skinny dipping, Mason was bewildered to find Brody blaming him for worrying everyone, since they had been unaware a bushfire had broke out near the festival. He went to see Justin, who had been stabbed by Ranae, in hospital and was worried to see Olivia visiting Hunter, asking if she still had feelings for him. He spent time with her when he had a lifeguard shift on the beach and looked after Harley Braxton when he cut his finger. He was worried that Olivia was trying too hard to prove something but she assured him she was committed to him.
Despite this, when he saw Olivia was worried about Hunter not going back to school, he made an awkward attempt to talk to him about it. He let slip to Justin that Tori's ex Riley Hawkins was in town and, to avoid the fall-out, he went to the garage with Olivia where they ended up having sex only to be caught by Irene, Brody and Matt. Justin warned him that he was becoming serious about a girl too quickly again. This caused him to start to distance himself from Olivia, although he did accompany her to Luc's baby blessing as her date. He was concerned when Olivia hid the fact Hunter had helped her at the Diner from him even though they both insisted there was nothing in it. He tried to be supportive when Tori considered moving to the city with Riley. He bought Olivia stationery for uni but she showed no interest on going with a road trip with him. She admitted she still had feelings for Hunter but insisted she wanted to carry on seeing him; however, Mason broke up with her.
He was wary of Phoebe moving in but when Justin, Tori and Raffy all proved to be in favour he fell into line with the majority. While helping out with the Salt stall at O-week, he was disgruntled to see Olivia and Hunter there as a couple, but stopped Hunter getting into a fight when one of the students, Byron, provoked him. Olivia apologised for messing him about and tried to set him up with one of her classmates, Lena Ascot. Justin also encouraged him so he arranged to go to a party at Salt with Lena. However, he was concerned when he found her dealing drugs. He kept quiet so as not to ruin the night for Brody but Brody quickly shut it down. Mason forgot he'd confiscated some drugs from one of the students and was berated by the family when he accidentally brought them home.
He was concerned when Brody then employed Lena at Salt, although he accepted she was doing a good job. However, he also warned Justin. He suspected Brody was on drugs when he messed up a visit from a food critic but Justin convinced him otherwise. However, Justin later admitted it was true. He reluctantly went along with a plan to deprive Brody of money to fund the habit. He found Brody coughing up blood and insisted on taking him to hospital, where he found out Brody had been beaten up by his dealer, Zannis. Brody passed a cocaine test so Mason assured Raffy, who revealed Buddy had fallen ill after taking drugs Brody had left lying around, that Brody was off drugs when he realised she'd hidden Brody's new cards.
He was shocked to discover that Brody was actually using ice and that Justin had kicked him out. When Brody's new friend Scarlett Snow got in touch with his whereabouts, Mason convinced everyone to let Brody stay with her while he got clean. He and Raffy found Brody when he ran away from Scarlett and Mason convinced him he was suffering from withdrawals. When Brody still refused to move back home, Mason blamed Justin, who had burst in on Brody in the bathroom thinking he was taking drugs, and threatened to move out but was mollified when the family pulled together for Raffy's birthday. When Luc had surgery and needed to be placed on antibiotics, Mason had to break the news to her family.
Brody disappeared after taking drugs again and Lena gave Mason and Justin an address that Brody might be at. They tracked him down and brought him home, refusing to let him leave. Mason agreed with Justin's decision to phone the police and then let Brody stay with them on bail. While setting up for the surf club's summer swim, he was forced to work with Hunter. They rubbed each other up the wrong way but Mason refused to fight Hunter when he challenged him and Hunter ended up confiding in him about finding out Zac wasn't his father, after which they entered the race together. He helped look for Brody when he missed his sign-in, after which he and the rest of the family found out Brody was hallucinating again.
Appearance
Mason has dark brown curly hair and brown eyes. He later cuts his hair. He has the same height as Josh Barrett, but Mason is more tanner and muscular than Josh. He has tattoos in his left arm and behind his neck. He wore t-shirts, shorts, jeans and sneakers.
Love Interests
Lara Adams Lara is Mason's ex-girlfriend from Brisbane. Mason and Lara broke up when he had to move to Summer Bay with his family and Mason told Lara where he lives and they reconcile. But Justin was angry at him for telling Lara. Lara was jealous when he sees Mason hugging Evelyn and mistook her as Mason's new girlfriend, but Mason told Lara that Evie is just a friend and confess his love to Lara. He also told her the truth why he and his family keep moving around. Mason was kidnapped by Spike Lowe and Blaine Varden and realized that Lara helped them find him and his family. Mason end things with Lara after she was arrested.
Evelyn MacGuire
Main article: Mason-Evelyn Relationship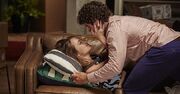 Evelyn is Mason's friend and the girl that he kissed. They met at the diner when Evie's fiancé, Josh lashed at Mason for drawing devil horns on his brother, Andy's photo on the newspaper. Evie and Mason became friends and Evie was the first person in Summer Bay to befriend him. After Evie and Josh ended their engagement, Mason comforts her. After Josh left and Evie organizing a school event, Mason comes in to help, after he saved her from dropping sandwiches at the diner. They also collect soft drinks from Salt and stayed for the night. Evie thanked him for helping her and he kisses her, shocking her and Mason began to avoid her after their kiss. The next day, Mason apologused and Evie forgives him. They resume their friendship after the kiss. The two shares a loving moment and slept together. They slept again and they two decided not to be in a relationship, but become friends with benefits. wich brody killed mason morgn in a car .tori was sad becaes of brody this is the end of the story
Gallery
Trivia
Mason is compared to Casey Braxton.
It's confessed that Mason and Evie becomes friends with benefits.
Mason's portrayer, Orpheus Pledger was in Neighbours before Home and Away