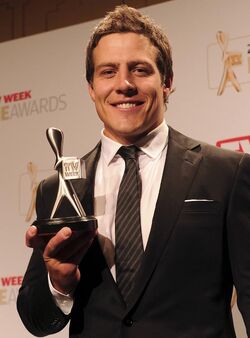 Stephen "Steve" Peacocke
(born 30 October 1981) is an Australian actor. He is best known for his role as
Darryl Braxton
, on Home and Away.
Career
Peacocke knew he wanted to be an actor from the age of 16. He had many performances on stage at Newcastle University, one of which he was awarded a City of Newcastle Drama Award for his portrayal of Ricko in Nick Enright's A Property of the Clan in 2004. He went on to act in the short play festival Brand Spanking New with actress Bel Deliá in playwright/director Augusta Supple's work Interrupting Grace directed by Nick Curnow, and also on Supple's later venture Stories from the 428. He also had a role in Kit Brookman's It Was Raining All Afternoon.
Peacocke began his on-screen acting career in 2006 when he appeared in a small role in the award-winning Australian film Suburban Mayhem. His second feature is the 2011 film Burning Man, with Matthew Goode and Bojana Novakovic. Peacocke began appearing on television in 2007, when he played the role of Zeb Hall in medical drama series All Saints. His other television credits include Packed to the Rafters, Rake and the television film Emerald Falls in 2008, which starred Georgie Parker.
In early 2011, Peacocke received the role of Darryl "Brax" Braxton, a local River Boy, on the Australian soap opera Home and Away. Peacocke also revealed his plans to work in the United States in the future. In 2012, Peacocke won the Logie Award for Most Popular New Male Talent. The following year, he won the Most Popular Actor award. He also received a nomination for the Gold Logie Award for Most Popular Personality on Australian Television.