Summer Bay High is a local school in Summer Bay. The school teaches students aged 12–18. Most of the younger characters in Home and Away attend the school, and many of the adult characters have worked there . Summer Bay school has been there ever since 1988.
History
Summer Bay High has commonly been used as a emergency shelter in extreme weather conditions such as cyclones and has been the scene of a hostage situation. During Donald Fisher's reign as Principal, Adult Evening classes were often held. The school was rebuilt in 1996 following a major earthquake that occurred in Summer Bay that year. In 2011, a storm occurred and did a great deal of damage, rendering the building unsafe. The school was rebuilt at the start of the 2012 school year.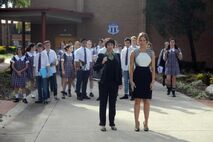 In 2014, after Mangrove River High School was burnt down in October 2013, its students were subsequently transferred to Summer Bay High.
Donald Fisher Library
The school also has a library which has been seen only briefly on screen. It was named after Donald Fisher, who was principal in the years 1988–1999, 2000–2002, 2003.
Current
Staff
Students
Uniform
The Summer Bay High uniform is half casual half formal. Female students wear a plaid dress with a white collar, white socks and black shoes. Male students are required to wear a white cotton shirt and a tie, however may wear any colored pants. Male students in older episodes often had their shirts tucked in to their pants/jeans but in newer episodes since the early-mid 200's many of the characters have had their shirts tucked out to be less formal.