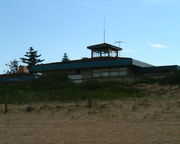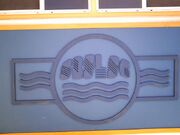 The Summer Bay Surf Lifesaving Club is a prominent feature of the television show Home and Away. It is currently owned and operated by local Alfred Stewart.
Summer Bay Surf Life Saving Club
Summer Bay has its very own Surf Life Saving Centre. It was first seen on screen in 1989. Over the years as well as serving its purpose as a center for sea and land rescues it has been a place for the young people of the Bay to relax and socialize. Town meetings are often held in the Surf Club. It has also been used as a polling station and a private party/formal venue and has housed various food outlets, most notably the ill-fated Bonza Burger in 1998. Several characters have been trained as lifeguards over the years and surf competitions take place occasionally.
Business' in the surf club 1988-2011
Noah's Bar (2004 - 2009)
Bonza Burgers (1998 - 2000)
Gelato (2009 - 2011)
Angelo's (2010 - present)
The Resturant (1990 - 1998; 2000 - 2004)
Gallery
→ see also Category:Images of Summer Bay Surf Life Saving Club